Professional Web Development Services in Lahore
Give your business an edge over the competition with a modern, user-friendly website design that stands out. Boost your online presence and attract more customers!
Key Elements of a perfect website: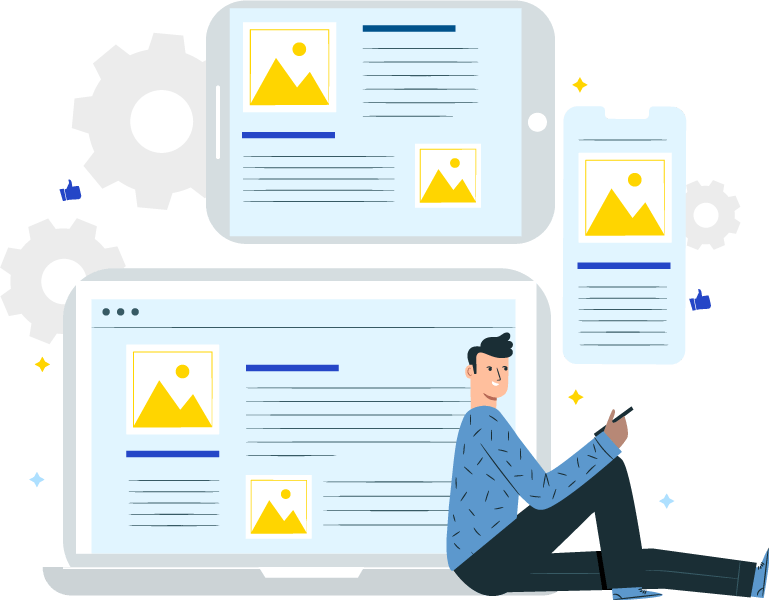 Why is a visually appealing website essential for business?
In today's digital era, people often search for brands and businesses online, which directly influences their credibility and existence. Hence, having a website is essential for a strong presence.
To make a lasting impression on your visitors and motivate them to purchase your products, it is essential to provide a great User Experience. United Sol, a leading web development company in Lahore specializes in crafting websites that communicate with visitors and guide them in the right direction.

Expertise in crafting quality custom websites using latest tools and technologies!
United Sol leads the way in empowering our clients to stand out among their competitors. With a mastery in developing high-quality custom websites, we use the latest technologies. Our team understands the importance of engaging the target audience. As leading web developers in Lahore, we offer competitively priced, and top-notch web development services.

UI/UX stands as an important element in professional website design. A well-crafted website not only engages more users but also provides a great user experience that enhances their understanding of your products and services.

Optimized Design for Mobile Devices
A website that doesn't look appealing on a mobile phone is a missed opportunity. At United Sol, we prioritize creating website layouts that are perfect for both desktop and mobile devices.

Our website is thoughtfully designed to emphasize the business's key selling points, ensuring a great user experience. By guiding users toward the conversion stage, we optimize a website to maximize results.

Get Higher Ranking with SEO
Having a search engine-friendly website is essential, and we ensure that our developed websites align with the quality guidelines set by search engines. This ensures easy discoverability and organic search visibility for your website.
Our Web Design & Development Services Include

At United Sol, we provide customized web design and development services tailored specifically to meet the unique needs of each business. By delivering interactive and engaging designs along with feature-rich websites, we drive brand exposure and boost revenue for our clients.
Ideal for small-scale businesses and blogging, WordPress is the perfect CMS choice. It offers high customizability and user-friendliness.
Experience a comprehensive WordPress solution that caters to all your needs. We deliver cost-effective WordPress solutions to help your business stay ahead of the competition.
Magento empowers SMEs with a robust and flexible CMS to build stable and scalable online stores. Reach new heights with a solid eCommerce store developed using Magento.
Elevate your eCommerce store with a customizable PrestaShop platform. Our skilled developers can create a store that ensures a happy customer experience.
Empower your business with flexible, robust, and efficient PrestaShop development. Reach new heights in the digital space with our expert professionals.

Take charge of your eCommerce store with a custom-built OpenCart platform. Designed and personalized for your customers, it leaves a lasting "Happy Shopping" impression.
We offer professional and dependable OpenCart development solutions for your business. Experience improved user engagement, innovative design, and enhanced ROI.
Shopify, a cloud-based SaaS platform, empowers businesses to effortlessly set up online stores and sell products.
Enhance your eCommerce business with a personalized Shopify store. Our focus is on maximizing ROI and delivering the best shopping experience for your customers.
Experience aesthetically captivating, user-friendly, and feature-rich Shopify storefronts that elevate the customer journey and drive revenue growth.

Get Your Website Design Now
Get Your Website Design Now