Shopify Development Company
Having a feature-rich and aesthetically pleasing Shopify store is a major necessity for your eCommerce success.
Shopify eCommerce Development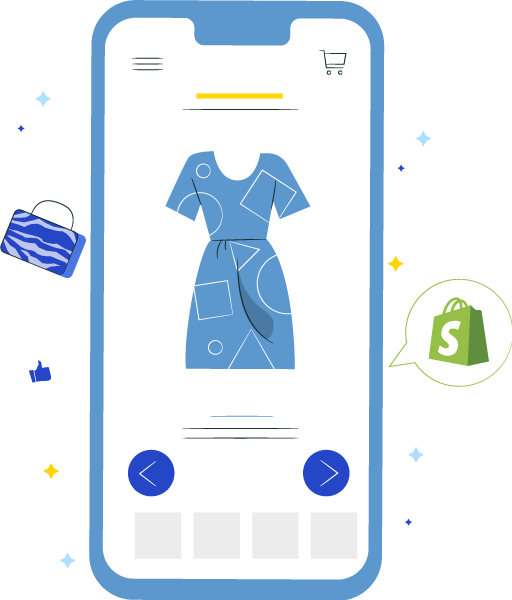 Choosing Shopify eCommerce
Since its inception in 2006, Shopify has continued to expand and increase its global eCommerce market share. Shopify is a testament to high performance, mobile responsiveness, scalability, top-notch security, and sales revenue. It offers catchy themes, versatile features, digital marketing edge, and a great user experience. It is the go to eCommerce platform for Startups and Entrepreneurs of today age.
For more than a decade, United Sol has helped clients achieve their business goals by building a robust eCommerce presence and growing their brand. We offer comprehensive Shopify Development Services in a range of solutions designed to deliver ease of use, efficiency, high performance, security, and revenue. From Shopify theme customization, custom integration, website design & development, to full-fledged Shopify migration and support, we have the best Shopify developers and resources to take your business to its ascension.
Our Shopify Development Services

We are a specialty Shopify development company in Pakistan, providing a range of Shopify development services for all kinds of clients. From basic development needs, to advance Shopify integrations, we have complete 360-degree service coverage that accommodates all your needs.

Shopify Website Development
Shopify custom development is all about helping you imbue your ideas and concepts into the digital frame of your store. This can range from store minor improvement to store functionality and performance, to major updates, migration orders and app integrations. If you need to get your requirements across with minimum time and complete adherence, we can help you achieve your goals with professional Shopify Custom Development Services.

Shopify Theme Development
We specialize in developing and designing custom functionalities, custom workflows, complex features, and tailored APIs. This includes expertise in Shopify theme customization, custom Shopify app development, extensions development, and Shopify integrations. All Shopify customizations are visually appealing, fast, and highly optimized to give the results you desire. When it comes to amplifying your brand, our custom storefronts come ahead as game changers.

Integrations are an essential part of running your Shopify Store. These help you increase the efficiency of your work, simplify management, improve administration, secure transactions, and run all operations through automation. Integrations can effectively reduce overhead costs, cut down time, and present measurable outcomes. This may include ERP integrations, custom integrations, third party integrations, and pre-built application integrations.

To ensure seamless, glitch-free, and smooth Shopify migration, we have a team of specialized migration experts to assist you. We have helped countless businesses from a plethora of sectors in migrating their online stores to Shopify Commerce. This includes WooCommerce, BigCommerce, PrestaShop, Volusion, and SpreeCommerce, etc. We also offer Shopify to Shopify Plus migration with complete support.

Get Shopify Development Services Now
Get Shopify Development Services Now