Odoo ERP and CRM Implementation Services - Official Odoo Partners!
United Sol is an official Odoo Partner to equip your business with the best Enterprise Resource Planning software. We have got expertise in providing reliable Consultancy and Odoo Implementation services. Have a look at some of our focused areas: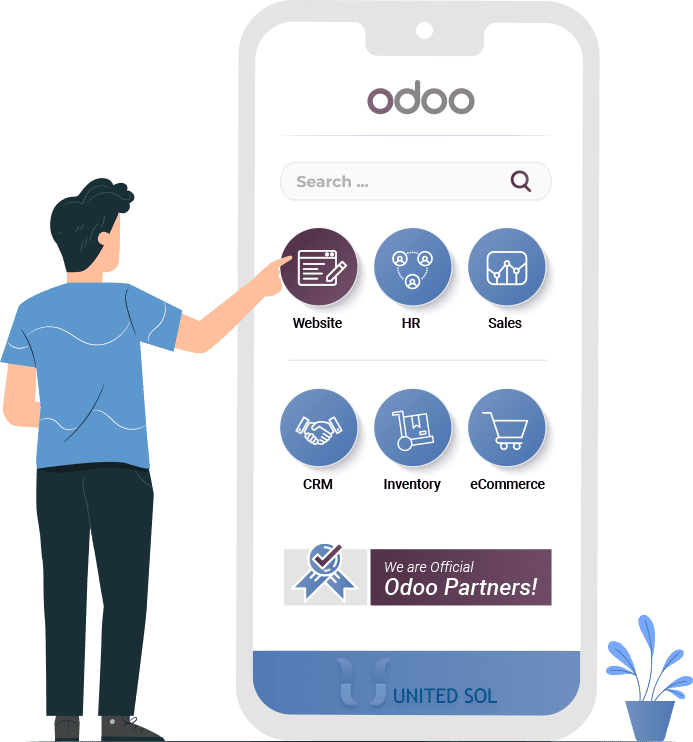 Odoo is an ultimate business solution that simplifies different business processes, collects useful data, and projects the organization's overall efficiency. Businesses need to spend a lot on dedicated ERPs to do the conventional way. United Sol brought a simple solution in the form of Odoo Implementation and
customization to business-specific needs. It provides a complete package with basic to advanced features a business may need to look after routine processes. Businesses of different scales and niches can take advantage of its amazing platform.

Can you imagine a single application for all business processes like Sales, Manufacturing, CRM, Accounting, Marketing, and more? It's Odoo.

United Sol makes Odoo CRM Software Implementation a turnkey process. Thus, we ensure it is fast, reliable, and pocket friendly.

As an open-source ERP application, Odoo has garnered a huge community of development firms like United Sol to seek instant assistance.

Odoo is expanded in multiple dynamics, making it adaptable and customizable to any business. Add Apps to expand fast.
How does Odoo Implementation Work?

United Sol specializes in Odoo ERP Implementation, so your business solutions management is safe. We carry out every step with a defined process and due care to avoid professional negligence. Here's how your project transcends through the supervision of thorough professionals.

Let's find your business needs and problems and how Odoo can resolve them. It helps us determine the Odoo elements to include in your plan.

A roadmap is designed after studying the business model and finding gap analysis. It includes a step by step guide to Odoo implementation.

Based on your business requirements, customizations are made to the software and deployed along with its migration files and additional apps.

The quality Assurance Team tests Odoo once it is implemented to ensure it complies with the requirements and issues are removed in time.

Issues, if any, reported by the QA team are dealt with, and the project is put live. It is now ready to use for the business to manage operations.

United Sol coordinates with clients to provide prompt support and maintenance in Odoo Implementation and afterward.
What Makes United Sol your top pick for Odoo?

United Sol has been serving the global IT ecosystem with cutting-edge technology and innovative solutions since 2005. It is our pleasure to demonstrate our expertise in Odoo, which is recognized as the best business management software worldwide.
United Sol is the Official Partner for being an outstanding Odoo Implementation Company.
With a dedicated team of expert developers, we offer the finest Odoo customization and configuration.
Odoo ERP Implementation can be trickier but never delayed here at United Sol. We value your time.
With decades of experience in ERP Development, United Sol has become a hub of innovation nerds.
Industries We Are Actively Contributing To

United Sol is partnering with businesses from a great spectrum of industries to provide them with reliable ERP solutions. Using Odoo technology, we are thriving to resolve almost every problem a business entity faces in managing its resources.
We are helping a number of eateries with Restaurant Management Systems to track their sales, update inventory, and manage staff from a single dashboard.
Recording leads and managing tenants on paper or spreadsheet is too old to talk about. Let's deploy a complete Real Estate Management System.
United Sol delivers outstanding Online Store Solutions to both retail and business-to-business market segments. It's business-specific and reliable.
Let us elevate the headache you take in looking after a brick-n-mortar shops with a Store Management System tailored to your needs.
Getting updates about so many facilities and prescriptions of a medical store is made easier with our Hospital Management System.
It strengthens the bond between students, parents, and teachers with the premium School Management System. Keep them all on the same page.
Let's Discuss Your Project

Do you need to talk to an Odoo Expert? Call us or email us immediately to discuss your business problems with one of our industry veterans.