Website Design and Development Sevices
Get a modern website for your business and stand out from the competition with a unique and user-friendly website design.
Key features of a perfect website: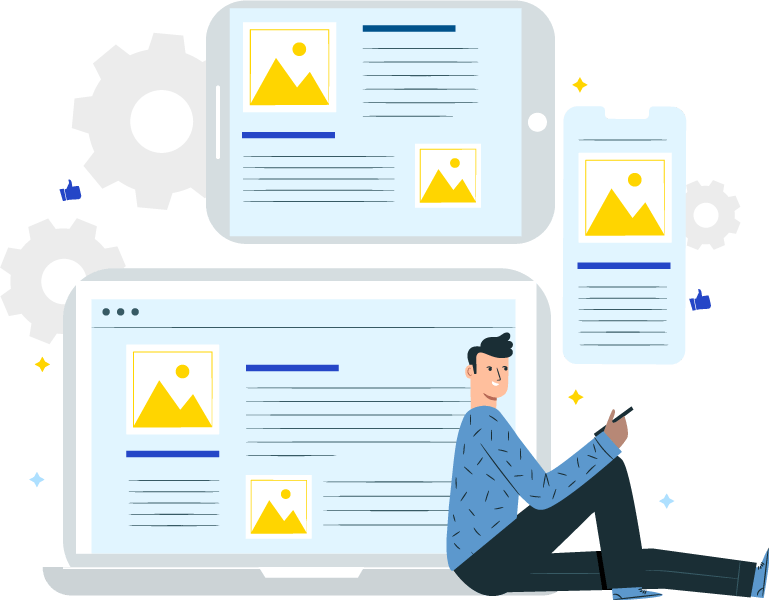 Why do you need a great looking website?
Most people search about a brand or business online and this online presence builds the credibility of the brand and its existence. Therefore, having a website is essential.
To leave an impact on your visitors and encourage them to buy your products you need to offer a quality User Experience to the visitors. United Sol is an Award-winning Web Design and development agency focused on designing websites that communicate with visitors and help navigate in the right direction.

Mastery in creating quality custom websites with latest tools and technologies!
United Sol has always been at the forefront for helping our clients to stand out among the competitors. Our company has mastery in creating qualitative custom websites by using the latest technologies. Our team experts understand the importance of engaging the target audience. As Pakistan's best web development company, we offer highly competitive and great web services with best price rates.

UI/UX is one of the most important elements in a professional website design. A well-designed website attracts more users and a friendly experience helps them understand your products and services better.

Whats a website that doest look good on a mobile phone. We at United Sol give special attention to make the website layout such that it is perfect on Desktop and as well as mobile devices.

We carefully plan and structure the website pages and contents that highlight all the key selling points of the business right away. Avoiding all the clutter and guiding the users to the conversion stage.

It is important to have search engine friendly website and we make sure that the developed website matches the search engine's quality guidelines. This makes it easily discoverable and appear in the organic search.
Website Design & Development Services

United Sol offers bespoke web design and development services tailored for each individual business and its needs.
An interactive and captivating design and a feature-rich website result in brand exposure and increased revenue.
A perfect CMS choice for small-scale businesses and ideal for blogging. The WordPress platform is highly customizable and user-friendly.
Offering a one-stop solution for all your WordPress needs. Delivering cost-effective WordPress solutions for your business to stay ahead of the competition.
A powerful CMS for SMEs to build an online store that is stable and flexible at the same time. Reach new heights with a solid eCommerce store developed with Magento.
Give your eCommerce store a power push with a customizable PrestaShop store. Our expert developers can provide you with a store that caters to your customers with a happy customer experience. 
Empowering your business with flexible, robust, and efficient PrestaShop development. Achieve new heights in the digital space with our expert professionals.

Control your eCommerce store like a boss with a tailored OpenCart store. Designed and customized specially for your customers, to leave a "Happy Shopping" mark. 
Offering proficient and reliable OpenCart development solutions to your business. Witness enhanced user experience, innovative design, and better ROI
Shopify is a cloud-based SaaS that gives an opportunity to businesses to set up an online store and sell their items online effortlessly.
Boost your eCommerce business with a customized Shopify store. Developed to focus on maximum ROI and the best shopping experience for your customers. 
Aesthetically captivating, user-friendly, and feature-rich Shopify storefronts to elevate the customer journey and increase revenue.

Get Your Website Design Now
Get Your Website Design Now