The digital world is a synonym for revolution. Every innovation is changing the way we live and work. It is the digital revolution that made people resign from full-day jobs and follow their dreams.
The availability of tech gadgets, tools, and easy internet connectivity has made them consider remote jobs, freelance gigs, eCommerce ventures, and lots of other options. Some of them have turned a spare bedroom into a home office, while others find coworking space a more practical solution.
Islamabad, being the capital and business hub of Pakistan, is no different in facing the effects of the great resignation. The Corona waves in the past two years have further escalated the need for coworking spaces when most of the businesses laid-off workers, who turned to make money online. The presence of such spaces proved bliss for the startups, freelancers, and the entire community. Following are some of the notable names to visit and find out how they can help you in excelling in your professional and entrepreneurial journey.
8 Best Coworking Spaces in Islamabad
1. The Desk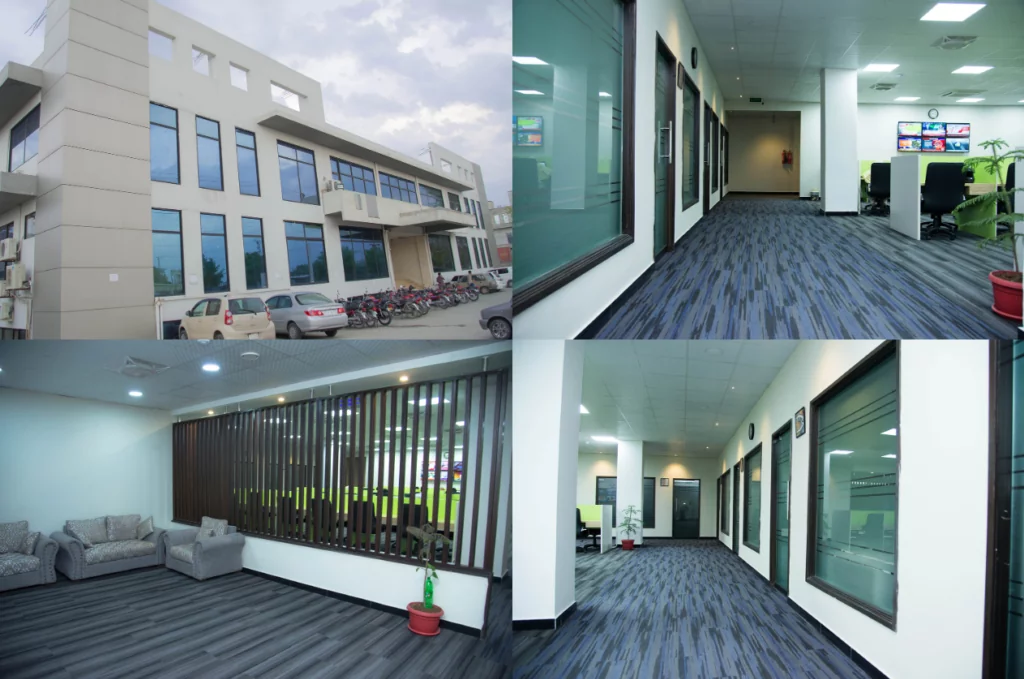 The Desk is a leading coworking space in Islamabad. With complete pin drop silence and zero distraction, you get the ultimate peace and serenity of working on productive and creative projects. The space is a hub for reputable startups, digital agencies, and established freelancers. The Desk believes in providing the kind of office space you have been looking for a long time. Whether you like to work in an open space, a complete floor is dedicated to hot seats; else they have an array of options in the form of dedicated offices, executive rooms, and a conference hall.
It is also a must-visit place for tech graduates, innovators, and startup founders to get their ideas validated by mentors and seek investments. The desk is working on an efficient model of an incubation center that is rapidly seeking tech enthusiasts to turn their dream projects into viable products. The fee for a dedicated desk starts from Rs. 12,000, whereas multiple options are available for private office spaces. The facilities you get include:
Access to mentors, incubation center
High-Speed Internet
UPS & Standby generator
Printer, Scanner, Photocopier
Kitchen with large dining area
Prayers room
Waiting area
Free Parking
Event Hall
Mail handling
Address: Plot 349, Street 1, I-9/3, Islamabad.
Call: 051 8442556.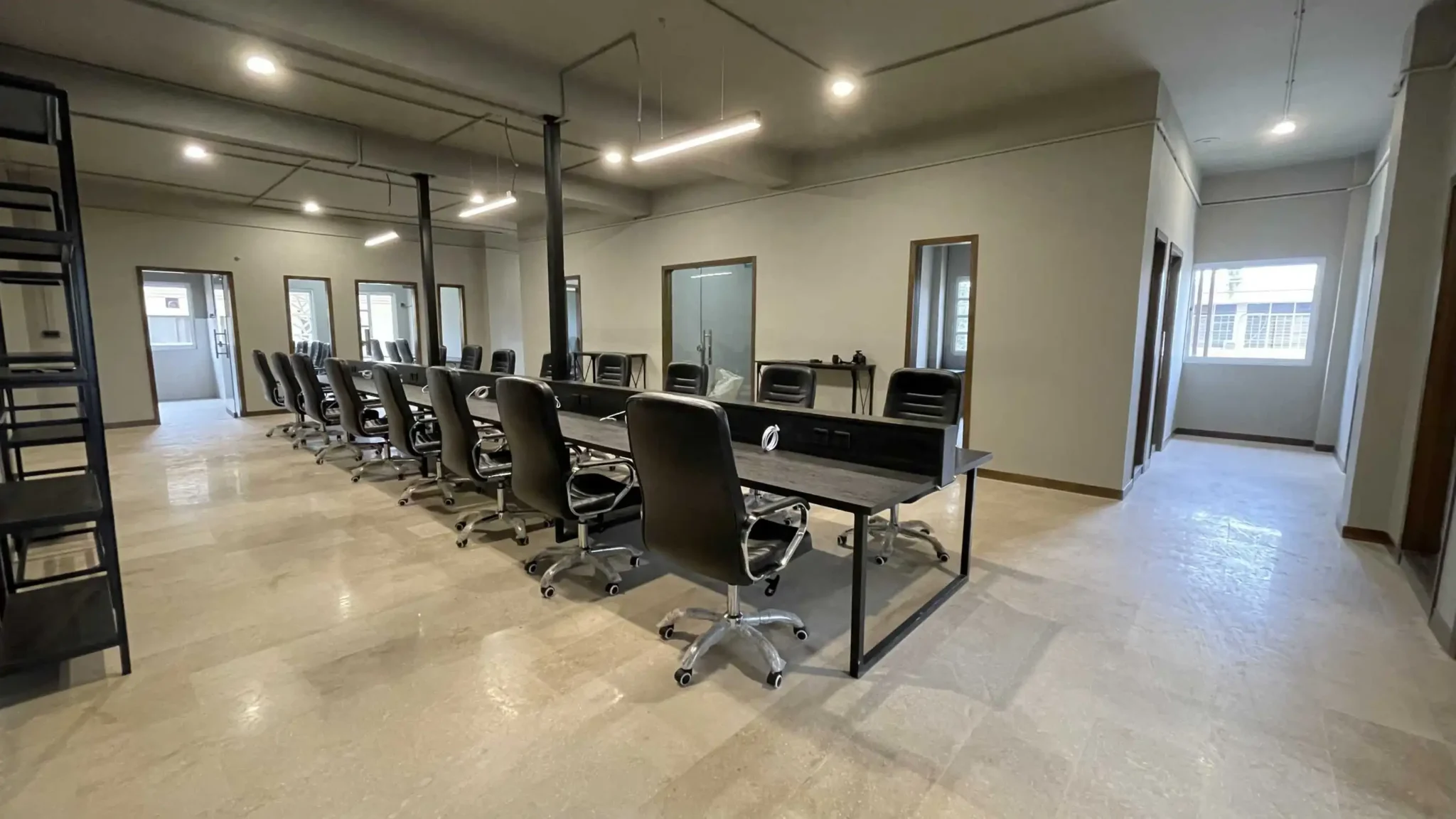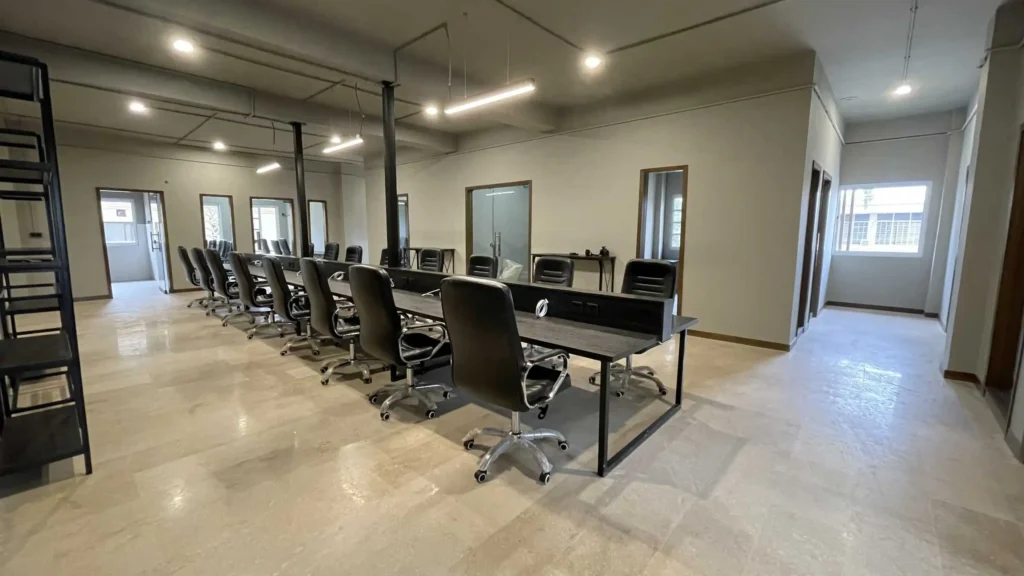 Finding an office in the industrial hub of Islamabad is a dream of many, but few can get it. Being the capital city, more and more offices are moving to get connected with bigger brands and offer services to multinational businesses. Coco Space seems to have bridged the gap with an amazing facility of shared office space. It is a purpose-designed coworking space that has proved to be a home for established and budding entrepreneurs for being its central location. It is situated in I-10 Markaz that offers the easiest commute to anyone either entering the city through IJP Road, Sirinagar Highway, or Ninth Avenue. The local transport makes it more accessible with the general bus stand and metro bus service.
Coco Space is an ideal working environment where digital and creative nomads need a focused ecosystem for maximum productivity. The space has several options for freelancers to subscribe. They can sign up either for a shared space, private space, or conference room for discussions and presentations. With all basic amenities like kitchen, dining, parking, cooling, and heating: members can take advantage of the fun and activity area too. Feel free to relax, network, or chitchat in a break or free hours. Some of the reasons you may consider Coco Space as another home office are:
Centrally located (I-10 Markaz)
Stable, Hi-Speed Internet
Reliable Power backup
Central Cooling & Heating
Free tea & coffee
Equipped kitchen
Conference room
Print, scan, or photocopy
Mail handling
Activity area
Address: Plot 3A, Korang Road, I-10 Markaz, Islamabad.
Call: 033555077777
3. Cowork24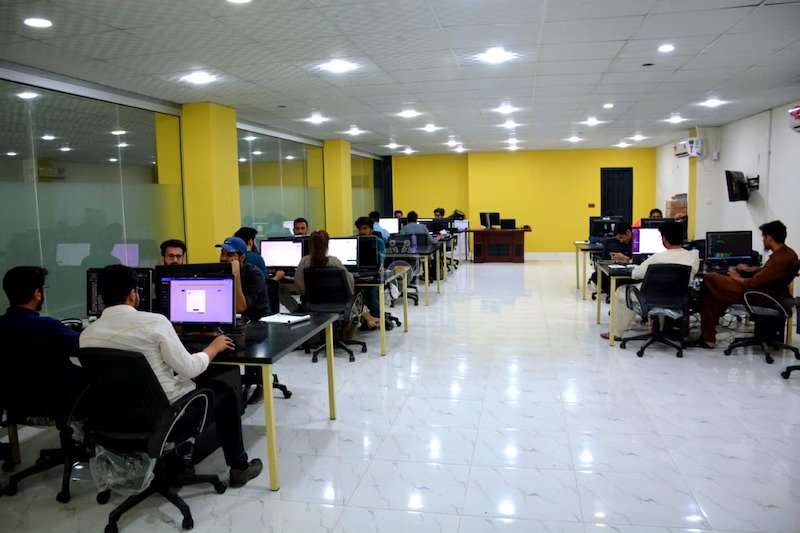 Cowork24 is a creative space developed for the greater freelancing community of the recently developed areas of the twin cities. Being situated in PWD Society Rawalpindi, it may seem to be at a distance from the core business sectors of Islamabad, but it is providing a feature-rich facility to the nearby areas. Freelancing and young entrepreneurs from the eastern part of the city can now pursue their dream jobs, careers, and business at this exciting coworking space. Members can get a dedicated desk or a private office as they like, or try a day pass to find how much the facility suits their needs. Membership benefits include:
Ergonomic chairs
Centrally cool
High-speed internet
Uninterrupted power supply
Spacious conference rooms
Kitchen and free tea
Secure and CCTV Covered
Address: 2nd Floor, Pak Plaza, PWD Housing Society, Rawalpindi
Call: 0316 5134161
4. TheWing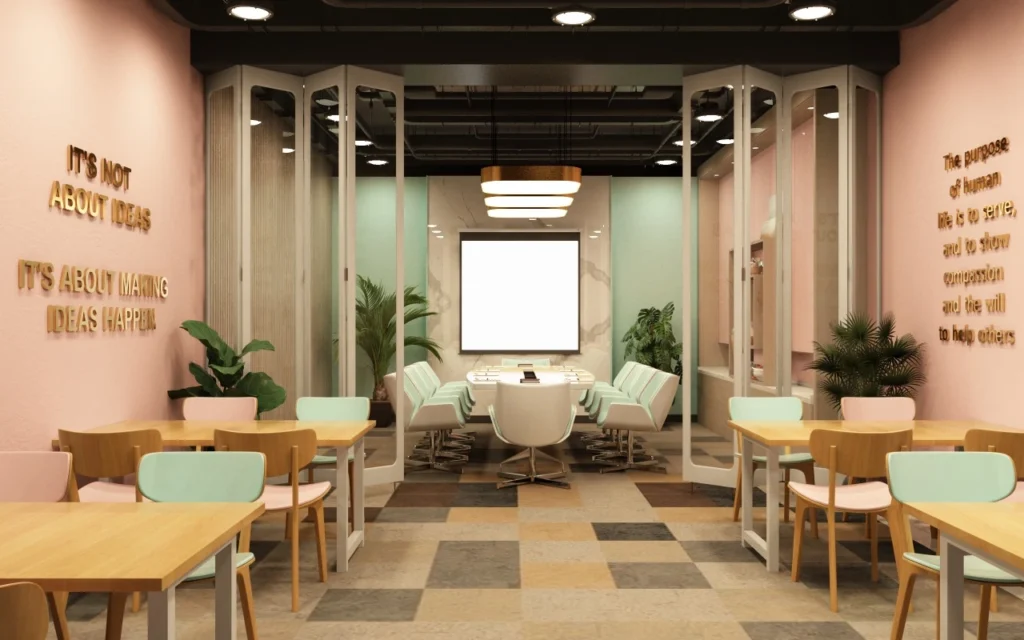 It is one of the finest coworking spaces of Islamabad facilities for the people of the Defence Housing Authority and the neighboring areas. TheWing is loaded with all the facilities a digital nomad may be looking for in a shared office space. However, TheWing exceeds members' expectations with its creative lounges and free coffees. Freelancers who need a vibrant space to work on creative projects and are always on the look for ideas – out of the box – can find ultimate peace here. they are given a free hand to share ideas, get into productive discussions, and use the walls to write their heart out. The amenities it offers include:
Unlimited, fast-speed WIFI
Café to work & coffee
Mail handling, reception
Modern headphones, IT support
Cultural programs
Meeting rooms
Happy hour services
Address: 2nd floor, Central Mall, Grand Trunk Rd, DHA Phase II, Rawalpindi
Call: 0333 1119200
5. DaftarKhwan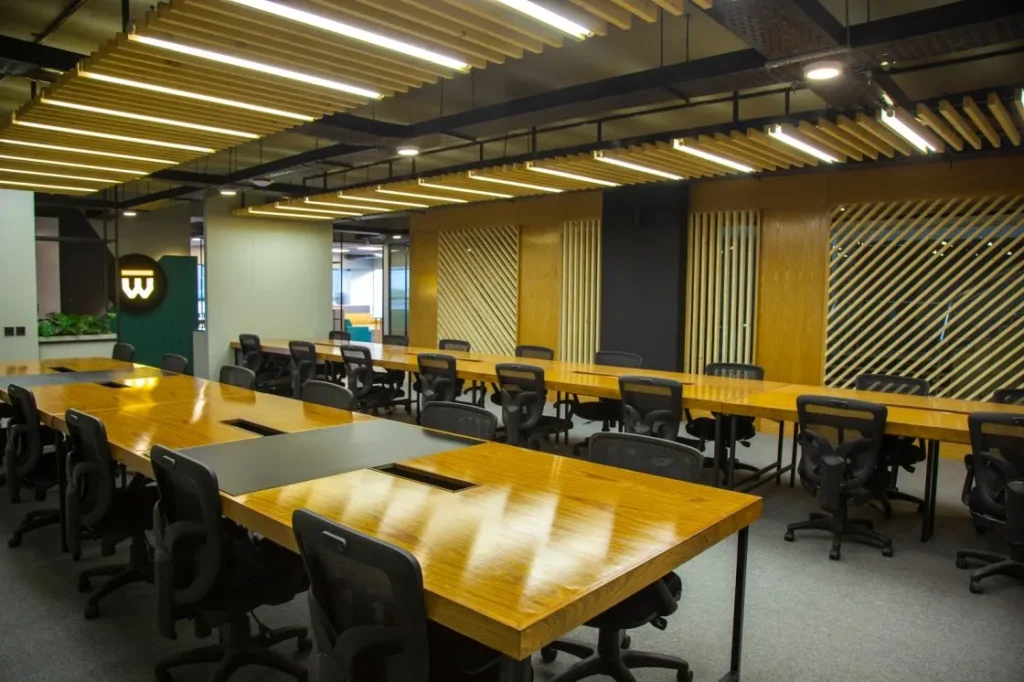 DaftarKhwan is a chain of coworking spaces operating in 3 major cities of Pakistan including Islamabad. It aims to provide a helpful platform for digital nomads to finally get a pleasant environment to work on their ideas, connect with like-minded people, and achieve their goals. Their co-working spaces are suitable for startups, individual freelancers, digital agencies, and entrepreneurs. It is a state-of-the-art space to share experiences, learn new things, and explore business opportunities. This technology-equipped working lab is now housed by mentors, industry veterans, and seasonal entrepreneurs.
It may cost you as low as Rs. 10,000 a month with a virtual seat. However, they have quite flexible options to accommodate your team and agency in an enjoyable office space. It offers you the following facilities.
Fast and stable Internet
Unlimited tea and coffee
Mail Handling
Air conditioner
Flexible office hours
24 hours access
Meeting rooms
Event spaces
Dedicated and Flexible seats
Address: Plot no. 94, Street 7, I-10/3, Islamabad.
Call: (051) 2722077
6. The Hive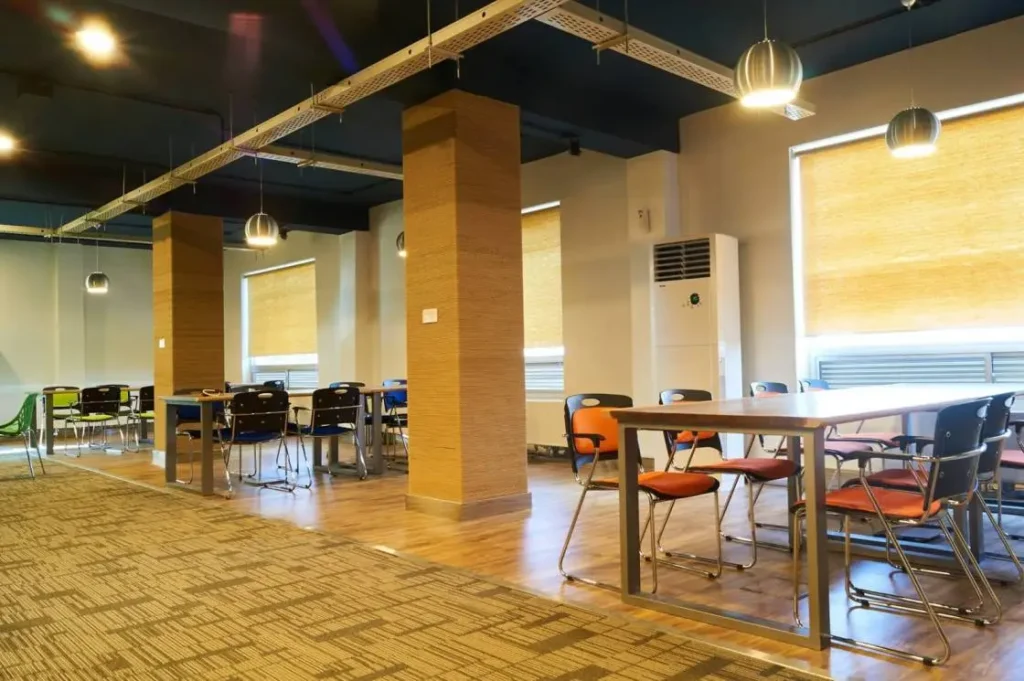 The Hive is more of a kind of coworking space aggregator that has more than 6 locations in Pakistan, 3 among them are situated in the center of Islamabad. With the belief of serving the business and digital community, it has located premium workspaces in the business hub of the capital city. 2 locations are in the Blue Area and one in Mauve Area. The Hive is bringing top-notch working spaces for a greater community of freelancers, digital agencies, startups, and even the tech giants. With spacious office spaces, they can cater to the varying needs of your business regardless of its team size and work hours. Prices for the shared spaces are not announced on their website. However, you avail the following amenities.
Fast internet
Reliable Power Backup
Access to meeting rooms
Support team
Private and secured
Unlimited hot beverages
Event space
Musical jam sessions
Address: 1st Floor, Manzoor Plaza, Fazal e Haq Road, Blue Area, Islamabad.
Call: (051) 7080129.
7. Regus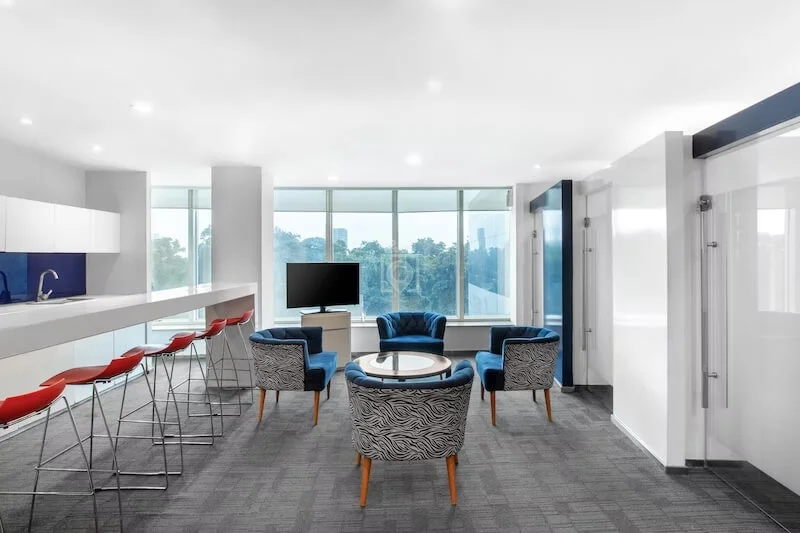 Regus opens a world of opportunities when it comes to finding coworking spaces for your new venture. It is brilliant at managing state-of-the-art technology labs at multiple locations. They have a spacious coworking office space in Islamabad. It has the capacity of hosting 45 offices with a selected number of desk spaces for individuals. It is fun to join, network, and collaborate with innovation enthusiasts. The prices are not revealed in general as they have customized plans for varying business plans. The facilities it boasts include:
Hot desks and dedicated offices
Workspace personalization
Easy to move from one location to another
Friendly reception staff
Flexible terms and conditions
Meeting rooms access
Networking events
Mail handling and forwarding
Call answering services
Address: Emirates tower, 2nd, and 3rd floor, M-13, F-7 Markaz, Islamabad.
Call: (051) 2099204.
8. KNCT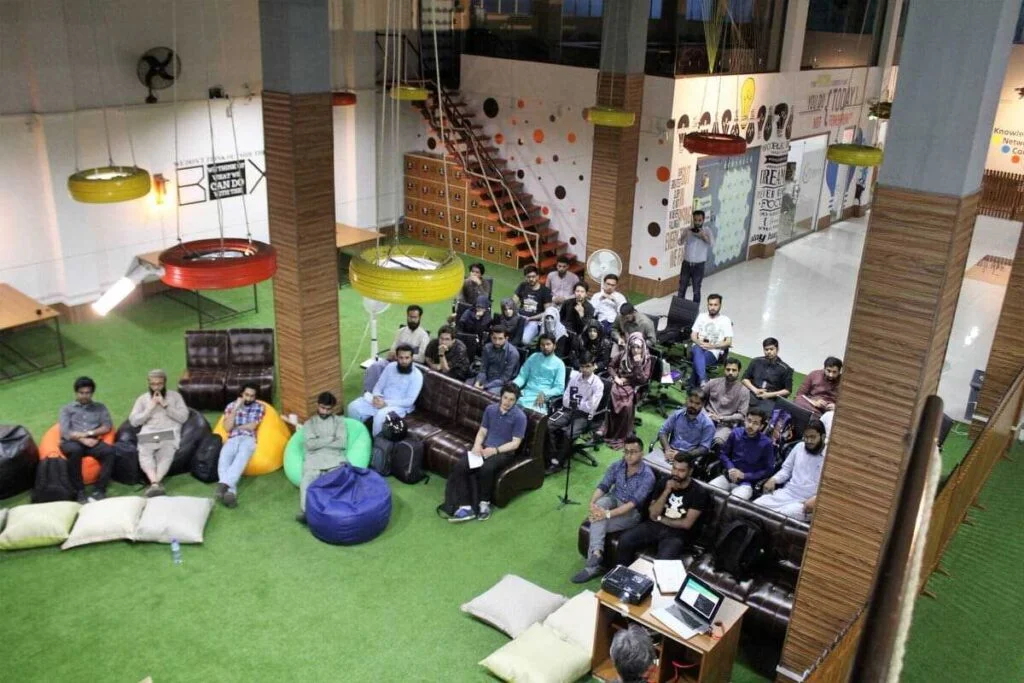 Located in the industrial hub of Islamabad, KNCT takes you closer to your business success with a modern and sophisticated workplace. The space is established and managed by IT and Tech moguls who have gone through the same struggle and difficulties a tech startup or digital influencers has to face in the beginning. KNCT aims to address those difficulties with a well-equipped, distraction-free coworking space. It welcomes startup founders, digital service providers and agencies, and innovation nerds to start their journey towards success in a peaceful, focused environment. The management keeps on holding training and workshops for skill enhancement and motivation of the resident members and the youth. Joining KNCT Hub earns you the following facilities:
Fast and stable internet connection
Scanner/Photocopier/Printer
Cooling and heating
Secure Lockers
Coffee Shop
Lounge Area
Fitness room
Free Parking
Address: Plot 59G, Street 7, I-10/3, I-10, Islamabad.
Contact Number: 0333 0008655.
Conclusion
Becoming a successful freelancer or running a reputable IT company is a dream of all, but few are capable of turning it into reality. It all starts with the availability of basic resources and facilities. The coworking spaces in Islamabad are pursuing to provide you with a friendly, productive, and focused environment to help you kick-start your journey towards digital success.