Pakistan is rapidly growing into the web space. It has turned into a hub of freelancing, IT services, software houses, and eCommerce ventures. Conventional businesses are trying digital and virtual mediums for maximizing their sales and conversion, while new online stores are launching innovative products to reach a local and global audience.
To achieve it all without reliable web hosting companies in Pakistan is near impossible. Web hosting proves to be the foundation or the stepping stone of the digital world. You need a website to promote a business, gain credibility, enter into the corporate world, or selling products or services online. We bring you a list best web hosting in Pakistan to review, compare, and hire the one that suffices your business needs.
Best Web Hosting Companies in Pakistan
It is one of the top names in the web hosting business. It has a Trustpilot rating of 4.6 based on more than 20,000 reviews. It speaks volumes about its quality and popularity among website owners. Given that Pakistani banks charge a considerable amount in the form of taxes on international payments, buying a domain from an international domain hosting company might not be feasible.
However, we have very good news. Hostinger now accepts payments in PKR (Pakistani rupees). It means you can get international-level services without breaking the bank. It is definitely nice to see international companies seeing the potential in Pakistan and trying their best to accommodate the local market. Hurry up and visit their website to avail yourself of exciting deals.
They are currently offering 78% off on hosting!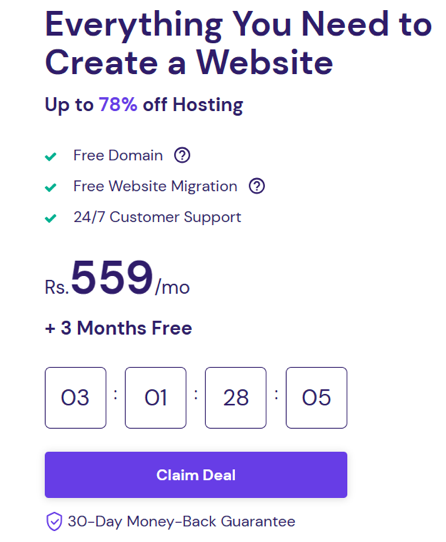 If you are looking for less expensive domain hosting companies but without compromising on security and performance, then Namecheap is your best option. It ranks amongst the top domain hosting companies in the world. It offers a wide range of plans, catering to different requirements. The only downside is it does not take payments in PKR. Take a look at its domain hosting plans below.

Reseller hosting is a popular business nowadays. It involves buying hosting from a company and then selling to your own customers. Namecheap allows reseller hosting without any hassle. So, we highly recommend it not only for your own domain hosting but also for selling to others.
3. Bluehost
Whether you are just starting out or have an established website, Bluehost has you covered. It has a wide range of hosting plans which cater to every requirement.

Why Bluehost? It has a lot of standout features, easily making it one of the top hosting companies in Pakistan and globally. What we really love about it is Cloudfare, which is an advanced Content Delivery Network (CDN). It boosts your website's performance considerably and reduces loading times. Both are critical in improving your website's online visibility.
4. Tezhost
Tezhost was established in Islamabad, the capital city of Pakistan, but soon expanded across the country. Being based by a reputable IT services company, TezHost provides the best web hosting in Pakistan. With the best speed and performance of hosting services, the company has earned clients from different fields. It includes corporate entities, agencies, small businesses, professionals, and bloggers. Its unprecedented customer satisfaction, the company has expanded to other regions like UK, UAE, USA, Malaysia, Bangladesh, and India. The basic hosting costs are as low as Rs. 104 per month.
5. Host break
Hostbreak started its journey back in 2001 when few people knew the purpose and significance of web hosting companies in Pakistan. It is serving thousands of clients that include small companies, agencies, law firms and accountants, hospitals, and non-government organizations. The company is committed to keeping the quality standards high and keeps it improving regardless of the increasing number of its clients. They have a variety of plans according to the nature and scale of a business. You can start with shared hosting and move to dedicated servers and advanced solutions. The hosting plan starts with as low as Rs. 125 per month.
6. WebSouls
WebSouls is powered by well-learned IT professionals who are committed to retaining the status of being the best web hosting in Pakistan. The company focuses on supreme quality services with special attention to hosting speed, support, performance, security, and uptime. The company is proud to have IT and digital solutions in abundance. It supports young and budding entrepreneurs and businessmen to have a strong digital footprint with high-speed and reliable hosting. It extends a helping hand to clients with advanced solutions like web and eCommerce development services. The hosting plans are also quite pocket-friendly for small and medium-sized businesses. It starts from Rs. 360 per month.
7. MWHoster
If you need unparalleled services of a web domain and hosting, MWHoster is your go-to place. The company has designed various hosting plans according to the nature and scope of businesses. Their professional interacts with your focal person to understand the purpose and goal of your business website so that a suitable plan is suggested. The company goes a step ahead in customer satisfaction with a 7-day trial period. You can avail the services for a week without payment and sign-up for a hosting plan when satisfied. Their plans start from Rs. 107 a month.
8. PakChamp
Since its inception, WebHoster soon became the talk of the town for its exceptional services. Getting premium quality services from the best web hosting in Pakistan is often expensive that's why WebHoster came with affordable yet reliable services. It has filled the gap with unprecedented services at low prices. The company has earned a portfolio of loyal clients from Pakistan, UAE, and Thailand and it is expanding to other regions as well. Their web hosting starts at Rs. 237 per month.
9. InhostPk
InhostPk is dedicated to superior web hosting services as it allows you to choose from different solutions. It has tailored a wide variety of plans that are suitable for small and medium-sized enterprises. The company has a credible name in shared and dedicated hosting services. You can have a complete server if you want a website that is loaded with different media and content. Specific listings for business hosting are also drawn to help you select a suitable one. Taking the basic plan can cost you Rs. 208 per month.
10. HosterPk
HosterPK is among the few hosting companies in Pakistan that believe in rendering incredible services rather than making money without delivering value. The company takes great care in listening to the client's needs to that a workable solution is recommended. Though that are various ready-to-take hosting plans, however, clients with complex requirements can get dedicated servers or customized plans. Their shared hosting may cost you Rs. 250 per month.
Conclusion
Web hosting is the soul of an online business. Let it be a simple and static website or an online store, the hosting server is the driving force behind it. You need to avail services of reliable hosting companies in Pakistan to host your website on fast, affordable, and secure servers.